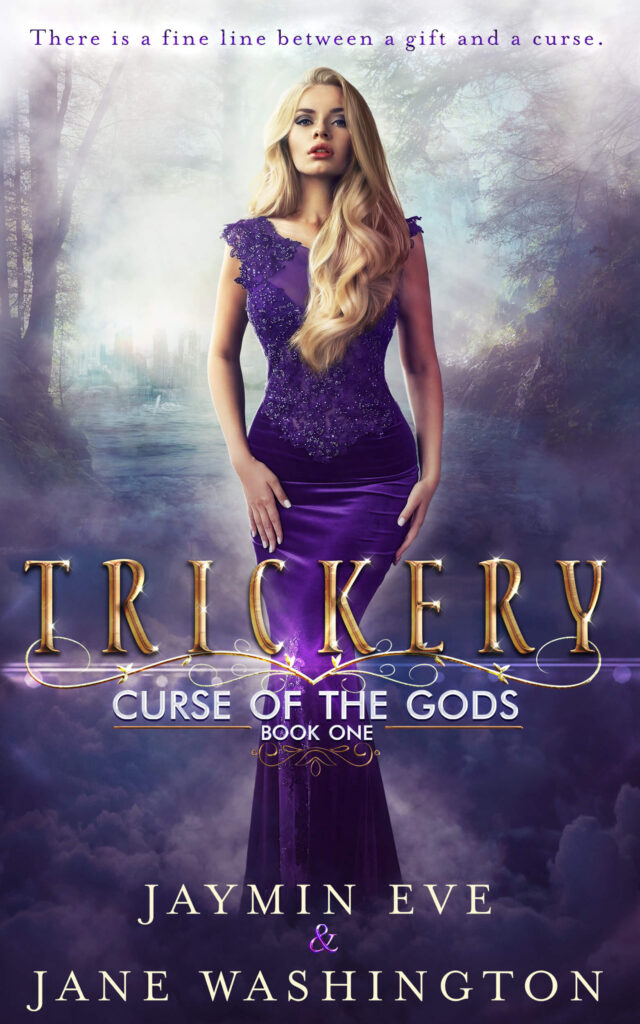 Title: Trickery
Series: Curse of the Gods #1
Author: Jaymin Eve, Jane Washington
Genre: RH Paranormal Romance
Published: February 28th 2017
Format: eBook, Kindle Unlimited
Pages: 388
Reread: Thrice
The Curse of the Gods series was one of my first adventures with RH as a genre. I was already a fan of Jaymin Eve because of her Hive Trilogy and the Supernatural Prison Trilogy, which I highly recommend if you are a PNR YA fan. But this series did not disappoint me.  
Trickery, Curse of the Gods Book 1, is a fantastic start to the overall story. The authors have set the theme pretty well.  
The Premise –  The world is pretty unique in this book. It is divided into two – Minatsol, where the people live, and Topia, where the Gods live. Even the people are divided into three classes – Dwellers (the ordinary people), Sol (people who have some God-like powers) and the Gods (the rulers of their worlds). 
This part is explained early on, so you aren't confused about all the political standing. Basically, the dwellers are the slaves of the Sols. And the Sols strive their best to please the Gods, so they get the chance to stand with them.  
The Characters and the Plot –  The story follows Willa Knight, a clumsy, hilarious female who has the uncanny ability to create a chaotic mess everywhere she goes. I really liked her for her stupid and endearing behaviour of getting into trouble. Although she usually stumbles around more, she is actually smart and knows how to get out of the problems too.  
As fate would have it, Willa, along with her sister Emmy, is chosen to attend Blesswood, an academy for the Sols who train to please their Gods and for a chance to be Gods themselves. It's the life of servitude for the dwellers, but Willa turns it into something more. 
She catches the eyes of five brothers, the Abcurses, who make her life more chaotic. And let me say, I wouldn't mind being their pet. Coen, Rome, Yael, Aros and Siret, are one of my favourite Harems. Each of them is distinct, they have their own quirks and personalities, and I thoroughly enjoyed getting to know them. Initially, they are amused by the dweller who's just too careless around them, but as the plot continues and things happen, they become protective of her.  
The Abcurses are much more powerful than the normal sols, dangerous and have a secret they aren't willing to share yet. But they have taken Willa under their wings and can be over-the-top at times (which TBH is my guilty pleasure). They are possessive of her and will do anything to keep her safe and avenge her.  
Overall… The world-building is amazing. The authors have built a fantastic world for us to dive into. The revelations take place in bits, but that's what keeps you going. The characters are amazing, well-rounded and so dang addictive. It isn't really a fantasy read, with all those over-descriptions of the land and stuff.  
The romance isn't the focus, but that doesn't matter because you get to read all those fun and intense interactions between the characters. Willa doesn't have a preference, she gravitates toward them all.  
This is a fun read, you will legit laugh out loud at Willa's antics, fall for the brothers and want more and more of them. HIGHLY RECOMMEND.
Trickery (Curse of the Gods) Blurb:
Willa Knight: Dweller. Slave. Non-magical being.

In Minatsol, being a dweller means that you are literally no better than dirt. In fact, dirt might actually be more useful than Willa. Her life will be one of servitude to the sols, the magic-blessed beings who could one day be chosen to become gods.

At least her outer village is far removed from the cities of the sols, and she won't ever be forced to present herself to them… Until one small mistake changes everything, and Willa is awarded a position to serve at Blesswood, the top sol academy in the world—a position that she definitely did not earn.

Under the sudden, watchful eye of the gods, she will be tasked to serve the Abcurse brothers, five sols built of arrogance, perfection and power. They are almost gods themselves, and under their service she is either going to end up sentenced to death, or else they are going to ruin her so badly that she will wish for it.

Either way, she is in trouble.

This is a full novel, 90,000 words. Book 1 of 5 in the Curse of the Gods Series 
Jaymin Eve is the Wall Street Journal and USA Today Bestselling author of paranormal romance, urban fantasy, and sci-fi novels filled with epic love stories, great adventures, and plenty of laughs. She lives in Australia with her husband, two beautiful daughters, and a couple of crazy pets. To date, she has sold over three million ebooks, and still can't believe that she gets to create fantasy worlds as a job. 

For action, adventure, romance, and a guaranteed HEA, start one of her series today.
Jane Washington is a Wall-Street Journal bestselling author who spends all her time writing books and then telling people not to read them.