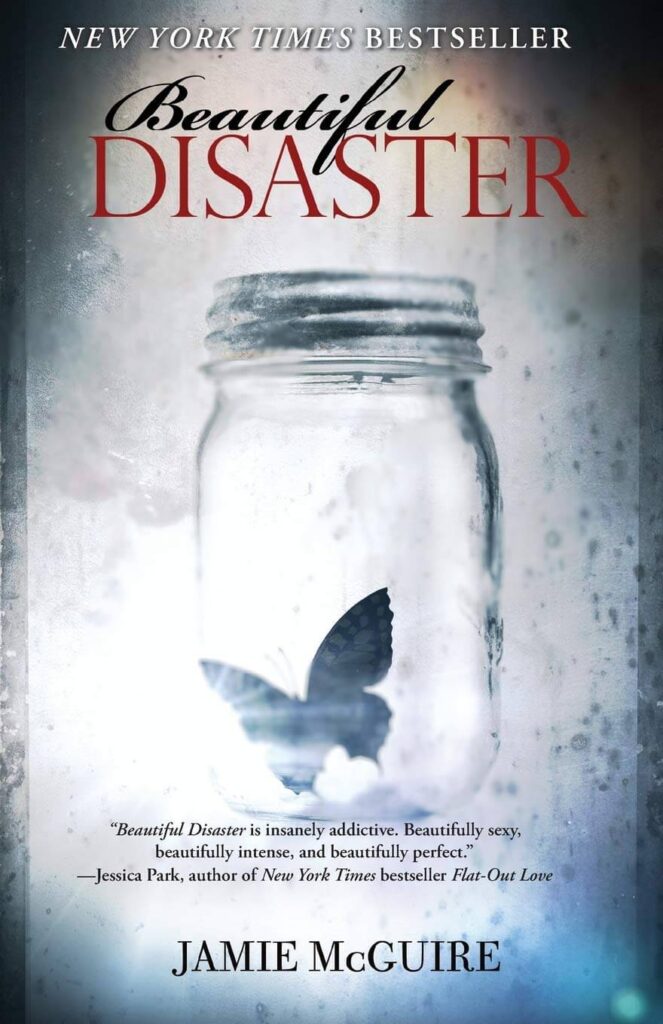 Title: Beautiful Disaster
Series: Beautiful #1
Author: Jamie McGuire
Genre: New Adult Romance
Published: May 26th, 2011
Format: eBook
Pages: 319
Reread: Twice
Beautiful Disaster by Jamie McGuire was my first foray into the New Adult world, and I guess, it's one of the first books to start the era of New Adult Romance. New Adult is basically Young Adult with explicit scenes and mature characters (just the way I like it LOL).
I first read this book in 2012 and wow, I fell in love with it! Travis Maddox blew my mind, and the angst and the drama were so damn addictive. When you have a boring school and college life, these are the books you live vicariously through.
The tropes include bad boy falling for the good girl, friends to lovers. The plot is basic, what you can expect from a New Adult College Contemporary Romance. It is fast-paced, full of angst and drama, the push and pulls between our main characters and focuses more on their tumultuous relationship.
It begins when Abby Abernathy goes to an underground fight with her best friend America and her boyfriend Shepley. There, she meets Travis 'Mad Dog' Maddox, Shepley's cousin and the main fighter.
Travis, intrigued by Abby, and her indifferent attitude towards him, becomes her friend. With Abby's mysterious past and Travis' demons, the story turns intense. There's some depth in the characters and the story which the author has explored really well.
Travis wants Abby badly, and in an attempt to keep her, he makes a bet with her – if he wins, Abby has to live with him for a month. I love how their friendship develops into love, and though it's roses and butterflies, in the beginning, their demons roll in, and the heat and drama turn up a notch.
Travis is the highlight of the book. He is the ultimate bad boy, all tattooed up, fights for his living, drives a bike, and a complete man whore.  He is intense, tortured, and feels things deeply. His character is flawed, and I guess that's why I loved him. He is pretty obsessive and protective over Abby and sometimes goes overboard to get his way. 
Some reviews say Travis is abusive and violent, and TBH, his obsession is a little unhealthy, but he has never been cruel to Abby or his close friends. The ones in his close circles are the ones he will fight to keep in his life and protect. 
Abby Abernathy is running from a past. She is a good girl, focused on building a life that doesn't include bad boys. But Travis crashes into her life and turns it upside down. Travis reminds her of all the things she left behind, but her own curiosity and attraction lure her close to him. 
They both brought out the best and the worst of each other, but they were made for each other. Abby was the calm to Travis' storm. Their relationship is not perfect, and that's why the book is so aptly named. 
They are beautiful together. But also a Disaster. Here's the quote that summed them both up – 
I definitely recommend this book. The author has written it really beautifully and I love how the main characters build each other up and be a better version of themselves. The college drama is a plus, and the side characters are amazing! You will love the Maddox Brothers. 
The new Abby Abernathy is a good girl. She doesn't drink or swear, and she has the appropriate number of cardigans in her wardrobe. Abby believes she has enough distance from the darkness of her past, but when she arrives at college with her best friend, her path to a new beginning is quickly challenged by Eastern University's Walking One-Night Stand.
Travis Maddox, lean, cut, and covered in tattoos, is exactly what Abby needs—and wants—to avoid. He spends his nights winning money in a floating fight ring, and his days as the ultimate college campus charmer. Intrigued by Abby's resistance to his appeal, Travis tricks her into his daily life with a simple bet. If he loses, he must remain abstinent for a month. If Abby loses, she must live in Travis's apartment for the same amount of time. Either way, Travis has no idea that he has met his match.
Jamie McGuire is the New York Times bestselling author of Beautiful Sacrifice, Beautiful Redemption, Beautiful Oblivion, A Beautiful Wedding, Red Hill, Walking Disaster, and Beautiful Disaster. She and her husband Jeff live with their children just outside Enid, Oklahoma, with three dogs, six horses, and a cat named Rooster.