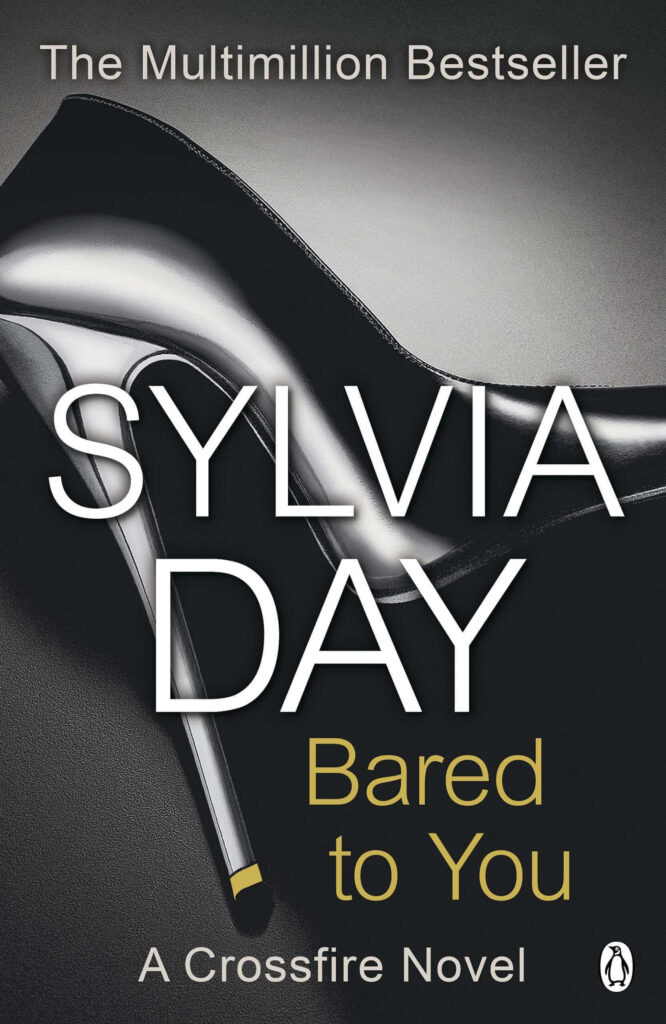 Title: Bared to You
Series: Crossfire #1
Author: Sylvia Day
Genre: Contemporary Romance
Published: April 3rd 2012
Format: Paperback
Pages: 334
Reread: Four Times
If there's a billionaire romance that I will always recommend, it's Bared to You by Sylvia Day. Although I did read it because it was marketed as 'similar to Fifty Shades of Grey' (which was also one of my favorite books at the time), it is actually a mature version of that (if I had to compare them both). 
Bared to You is the first book in the Crossfire series that had me completely hooked from page one when I read it for the first… second, and the fourth time. It is an apt name for this book because it has the characters baring their secrets to one another (more on this below).
It's an enticing read of two broken characters, an emotional journey of them trying to beat their demons to come together, and their intense sexual chemistry – all laid right here in my review. This was my first book by Sylvia Day and definitely not the last.
Here's my review trying to convince you why you need to read Bared to You, sprinkled with some sexy and emotional quotes that are just making me want to re-read it again. 
Bared to You is written in the first POV following Eva Tramell who along with her best friend Cary Taylor has moved to New York. Coming from a wealthy family, Eva is determined to pave her own way with no help from her wealthy step-father, and is about to start work at an ad agency. 
While exploring New York and her office, she bumps into a dark, mysterious, charismatic guy to whom she is intensely attracted. When her boss gets a potential project in hand, she is surprised when she stumbles into the guy, the owner of that project, Gideon Cross – the guy she first met after sprawling on her ass. 
And from that moment onwards, their tumultuous relationship begins. 
Gideon and Eva are sexually attracted to each other. From the moment they meet, it is lust at first sight for them. Gideon pursues her single-mindedly focused on getting her to agree to a purely sexual relationship.
Gideon Cross doesn't mix his sexual and personal life, whereas Eva isn't interested in being just an 'orifice' for him. It starts as a game of chase for Gideon, who doesn't hear no often and Eva does not give him the time of her day despite their chemistry. 
The plot focuses more on the romance between Gideon and Eva; both navigating through this new and fragile relationship with several aspects in play that either deter their growth or strengthen them. 
I liked how Eva was strong enough to not give in to Gideon. She is not the typical virginal heroine – no, she knew what she wanted, and she was able to articulate everything to Gideon – which I thought was different. 
She has been through a traumatic past, and I think she is brave enough to confront her fears. She often goes toe-to-toe with Gideon, but sometimes her fear and lack of self-esteem make her run away from Gideon to avoid him, their problems, and her insecurities.
If I had to compare Eva and Ana (from Fifty Shades) I think Eva is a lot more developed and less annoying (Had to say it lol). Sometimes her character feels older than 24 years – maybe it's because she faced darkness at a very young age.
She is strong and confident, wanting to build her career and life on her merit instead of using her step-father's contact. I liked how real she was about herself. She knows what she has to work on – and I liked that about her.
Move over Christian Grey. There's a new billionaire alpha male in town. Honestly, I loved Gideon Cross from the moment he was introduced. Dark, blunt, shrouded in mystery, and domineering, Gideon captured my heart. He is all of my favorite tropes I love in a hero.
Gideon is used to having a strong handle and control over his life – both business and personal. So, when he meets this vibrant girl, he needs to have her in his bed.
He wants Eva badly, and because she won't give in to him, he tries to compromise and understand where she is coming from. 
He has a dark past of his own, and often when the situation goes way too deep than he expects to, he shuts down on Eva. He controls his reactions and feelings – and is abrupt with her – which she doesn't take lightly. 
What starts off as a temporary relationship turns into more for him. He will not let Eva go, not when he craves her deeply, when she accepts him – his past and all. He wants to own her mind and soul, because she fulfills a broken part of him. 
Gideon shows his vulnerable side to Eva, is not afraid to show her his feelings, and I think that's also a part of the reason I loved this book so much. They both have an amazing relationship – their individual character growth and their romantic development. 
The steamy scenes are sexually and emotionally charged. They connect well with their bodies and they have sex literally all the time (not that I am complaining, haha). 
They are broken by their past, both have been sexually abused, and their past is what determines their actions in the present. Eva deals with it by going through therapy, and Gideon focuses on maintaining control over everything. 
I think one of the reasons why they are attracted to each other is because they see something broken in each other and can just be themselves.
Both have a tough journey ahead if they want to make it as a couple and Bared to You is a fantastic start to their story.
The secondary characters are amazing. There are many characters playing a pivotal role in their lives and each of them had a personality of their own. Eva's family and her new boss, Gideon's exes – they are all 3D characters. 
I especially want to give a shout-out to Cary Taylor – Eva's best friend. I loved how realistically he is portrayed. He has his own troubles, problems and I liked how Sylvia managed to capture that guy's story. 
Sylvia Day's writing style is sophisticated but still smooth enough to make you a part of Eva's life and incorporate you into their lives. The story is even-paced and nicely developed.
Bared to You by Sylvia Day is addictive to read. Gideon and Eva will make a place for themselves in your mind and won't let go even after you finish the last book. It is one of my most comfort reads and I find myself going back to them often.
I recommend this book 200%. 
Bared to You is also a part of my list Books Similar to Fifty Shades of Grey. 
Some Bared to You FAQs that I commonly see:
What is the Bared to You reading order?
Bared to You is the first book in the Crossfire Series followed by Reflected in You, Entwined with You, Captivated by You, and One with You.
Can Bared to You be read as a standalone?
Each book has a Happy For Now Ending. So yes, you can read this as a standalone but their story is far from over.
Bared to You Age Rating –
Bared to You by Sylvia Day is suitable for readers of 18+ as it deals with explicit content. 
Bared to You trigger warnings –
Spoilers ahead: Yes, both the characters have faced sexual abuse in the past. 
Will Bared to You become a movie?
According to Sylvia Day's website, Crossfire is no longer under option at this time.
Romance Novels like Bared to You –
Fifty Shades of Grey by E.L. James and This Man by Jodi Ellen Malpas. 
From #1 New York Times bestselling author Sylvia Day comes the provocative masterstroke of abandon and obsession that redefined the meaning of desire and became a global phenomenon…
Gideon Cross came into my life like lightning in the darkness. He was beautiful and brilliant, jagged and white-hot. I was drawn to him as I'd never been to anything or anyone in my life. I craved his touch like a drug, even knowing it would weaken me. I was flawed and damaged, and he opened those cracks in me so easily.
Gideon knew. He had demons of his own. And we would become the mirrors that reflected each other's most private wounds and desires.
The bonds of his love transformed me, even as I prayed that the torment of our pasts didn't tear us apart
Sylvia Day is the #1 New York Times, #1 USA Today, #1 Sunday Times, #1 Globe and Mail, #1 Der Spiegel, and #1 international bestselling author of over 20 award-winning novels delivered with her trademark emotional intensity, scorching sensuality, and powerful storytelling. She is a #1 bestselling author in 28 countries, with translations in 41 languages and tens of millions of copies of her books in print. Visit the author at sylviaday.com