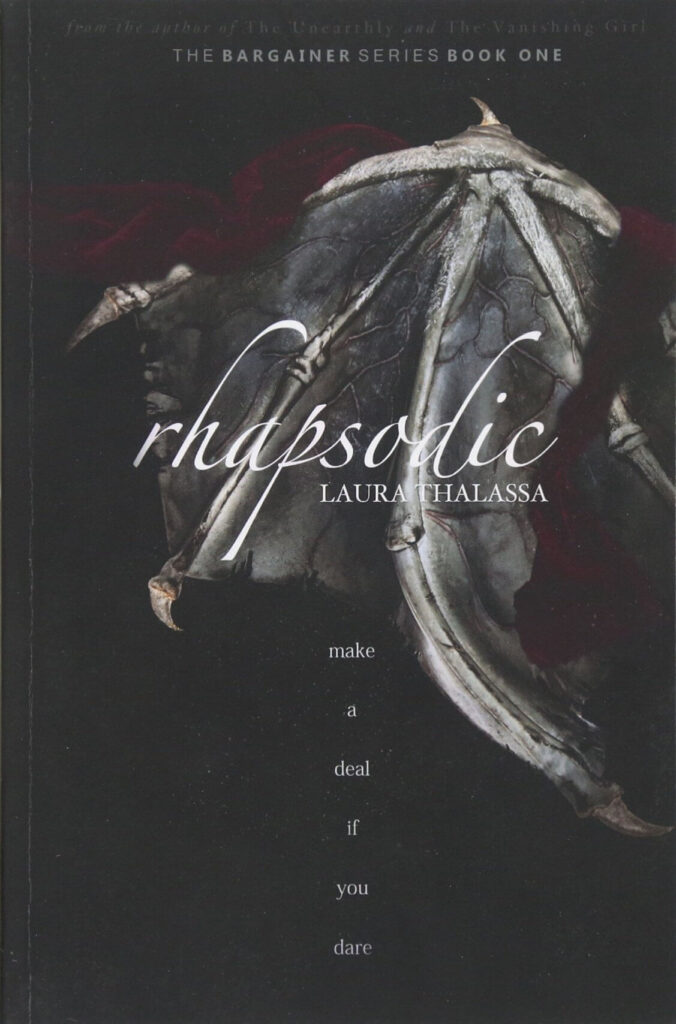 Title: Rhapsodic
Series: The Bargainer #1
Author: Laura Thalassa
Genre: Fantasy Romance
Published: November 15th 2016
Format: eBook – Kindle Unlimited
Pages: 423
Reread: Twice
Rhapsodic by Laura Thalassa is the first in The Bargainer series, and definitely a book I'd recommend to Fantasy Romance readers – the genre is Urban Fantasy and New Adult. The whole Bargainer thing, the dark fairy who collected debts and favors, intrigued me. 
This one was in my TBR for a long time. My best friend had recommended another book by the author, but Rhapsodic caught my eyes. After reading glowing reviews by my Bookstagrammer friends, I just had to pick this up. 
Rhapsodic is a perfect beginning to the series – which focuses more on establishing the characters and setting the theme of the overall plot. Although it focuses more on Romance than the plot, I found it to be a perfect mix of both.
The story follows Callie, a siren, who at the age of 16, calls on the Bargainer to deal with a situation she is in. The Bargainer doesn't make deals with minors but helps Callie out for some unfathomable reason with no charge. 
Despite starting a new life in a Paranormal University, she's battling loneliness, burdened by her dark past, and all her actions. She calls on the Bargainer again, his charisma and darkness calling out to her, wanting to know more about this dark creature. 
They become friends, where Des (The Bargainer) helps her face her demons, all the while collecting favors from her as beads that formed a bracelet around her wrist and arm. The friendship develops into something more, which Des, despite his devious nature, doesn't give in to. And one day, he disappears from her life, breaking her heart.
The book alternates between present and past which delves into her life when she is 16, and the present – seven years from then. Honestly, this made the reading experience so amazing. We see Des and Callie's relationship when she is a teen. Des' darkness and Callie's innocence complement one another, their dynamics so adorable – Des was the King of Nightmares, yet was so gentle with her. 
Seven years later, Callie is now a PI and runs an agency with her best friend Temperance Darling, another supernatural being. She is now strong, smart, and not the weak girl she was. Just when she believes her life is under control, Des makes an appearance. 
Des is back – he is the same dark fae that Callie's always loved. But they don't know where they stand with each other. The book explores more of Des and Callie's present dynamics. There are around 320 beads – favors that Callie owes him, and Des plans to make good on them. 
Their love story is what I would call 'classic'. Friends to almost lovers, second chance romance, that makes you feel all those mushy stuff. The plot and world-building take a back seat and are more about developing their characters together and on an individual level. 
There's a power imbalance, with Des holding the most of it and Callie being half human and half siren, unable to fight his magic. She still doesn't know why Des left her and can't decipher his intentions. As we understand their past and the present, eventually, all the secrets are revealed. 
Desmond Flynn is one of my top book boyfriends. He is a dark, scary, vindictive, tricky fae. Bargaining and dealing in favors is a compulsion he cannot deny himself. And when Callie crosses his path, he is intrigued by her and allows her to drag him into her life. 
He is this broken bad boy, with a dark past and secrets that I wanted to unravel. You want to get to know him, and he's often compared to Rhysand of ACOTAR series. So SJM fans, you should definitely pick this up!
The Bargainer also wants Callie to help him discover the threat in the Otherworld that's stealing fae women warriors and impregnating them. They return in caskets, with a child that drinks blood and harms the fae. 
As Callie helps Des navigate the treacherous grounds, she ends up being the target of the enemy. The pace turns faster in the last part of the book, and I am curious to know more about the Otherworld, the threat, and Des and Callie's relationship.
I recommend this series if you love all things Fae, are a fan of romance with specks of Fantasy. Rhapsodic by Laura Thalassa was one of my top 10 reads of 2020. 
Callypso Lillis is a siren with a very big problem, one that stretches up her arm and far into her past. For the last seven years she's been collecting a bracelet of black beads up her wrist, magical IOUs for favors she's received. Only death or repayment will fulfill the obligations. Only then will the beads disappear.
Everyone knows that if you need a favor, you go to the Bargainer to make it happen. He's a man who can get you anything you want… at a price. And everyone knows that sooner or later he always collects.
But for one of his clients, he's never asked for repayment. Not until now. When Callie finds the fae king of the night in her room, a grin on his lips and a twinkle in his eye, she knows things are about to change. At first it's just a chaste kiss—a single bead's worth—and a promise for more.
For the Bargainer, it's more than just a matter of rekindling an old romance. Something is happening in the Otherworld. Fae warriors are going missing one by one. Only the women are returned, each in a glass casket, a child clutched to their breast. And then there are the whispers among the slaves, whispers of an evil that's been awoken.
If the Bargainer has any hope to save his people, he'll need the help of the siren he spurned long ago. Only, his foe has a taste for exotic creatures, and Callie just happens to be one.
Found in the forest when she was young, Laura Thalassa was raised by fairies, kidnapped by werewolves, and given over to vampires as repayment for a hundred year debt. She's been brought back to life twice, and, with a single kiss, she woke her true love from eternal sleep. She now lives happily ever after with her undead prince in a castle in the woods.
… or something like that anyway.
When not writing, Laura can be found scarfing down guacamole, hoarding chocolate for the apocalypse, or curled up on the couch with a good book.