I've been a romance reader since 8th grade, starting off with mom's shelf of Mills and Boons. Once upon a time, I used to find reading a boring pastime, but now you'll often see me devouring romance books (unless I'm in a book slump). 
I enjoy romance books and can suggest many based on your mood or preferred sub-genre.
If you're new to reading romances and want to try one, I've made this guide on the top Best Romance Books for Beginners. 
Here are some other guides to help you embark on your foray into the romance book world: 
Bookmark these two along with this set of recommendations so you can refer to them anytime you want to review a romance book.
In this guide to Romance books for beginners, I've segregated the recommendations based on the sub-genre you might be interested in.
So let's begin with the best romance novel for beginners!
YA Romance Books for Beginners
I think Young Adult acts well as the beginner romance books. While the story does have romance, there are a lot of 'teen' moments that happen along with romance and less spicy scenes.  
With no complexity in the plot, the story is usually easy to follow and the characters are usually endearing. They are still growing up and there are a lot of life moments that help them learn who they are. 
Here are two of my favorite YA romance picks:
Anna and the French Kiss by Stephanie Perkins
Anna and the French Kiss takes us on a captivating journey through the heartwarming and humor-filled world of teenage romance. This young adult romance is set in Paris and brims with teenage drama, humor, romance, and friendships.
In her senior year, Anna is shipped off to boarding school in Paris. There she explores the beautiful city of light, the culture and makes new friends – including Etienne St. Clair, her best friend and unattainable crush.
A good start for a beginner romance reader.
The Selection by Kiera Cass
The Selection by Kiera Cass is the first installment of the popular YA series – The Selection. It is an exciting book series that combines romance and young adult dystopian themes, similar to a royal version of "The Bachelor."
In a competition where 35 girls are vying for the heart of the handsome Prince Maxon, America Singer reluctantly joins a competition while struggling to choose between her secret love and the palace's allure.
As her relationship with Maxon develops from friendship to something more, we are treated to a slow-burning, genuine romance amidst the backdrop of rebel threats and a caste-based society.
Contemporary Romance Books for Beginners
If Young Adult dramas is not appealing, Contemporary New Adult Romances might tickle your fancy.
The plot can be complex and realistic, as the characters are out of college and dealing with real-world problems.
Here are some contemporary romance book recommendations for beginners:
From Lukov with Love by Mariana Zapata
This book is my personal favorite and one that I highly recommend to everyone who loves reading or wants to dip their toes in romance. 
It's a slow burn, sports romance following the story of two renowned ice-skating figures. The main characters have a lot of history, frenemies determined to hate one another, but there's of course the lingering attraction. 
It's a comfortable read, the romance evolves at a snail's pace, but the overall character development and the storyline are fantastic. 
Check out my detailed review of From Lukov with Love.
The Spanish Love Deception by Elena Armas
The Spanish Love Deception is another personal favorite of mine. Although there are many who recommend The Hating Game, I would suggest The Spanish Love Deception, if Office romances are your thing. 
A slow-burn romance that takes you on a journey of office enemies pretending to be in a relationship and a fun Spanish family involved in the chaos.
It's heartwarming and funny, and all the characters are adorable. The relationship development is pretty fantastic, and coupled with ex-drama, nosy family members, and a wedding to attend, it's a great read. 
Neanderthal Seeks Human by Penny Reid
Neanderthal Seeks Human is a standalone romance book by Penny Reid and the first book in the Knitting in the City series that I highly recommend for a beginner.
The story follows Janie Morris, who is down on her luck – fired from her job, and has her crush – a bodyguard of the building where she worked – witnessing it all. 
You'll love Janie and Quinn. Janie's socially awkward and a fountain of knowledge, whereas Quinn is an overprotective, broody alpha male.
And, in addition to the main couple, we also have Janie's knitting club members who are all hilarious ladies waiting to get their love stories in the coming books. 
It's a perfect Romantic Comedy to lighten up your mood.
Playing for Keeps by R.L. Mathewson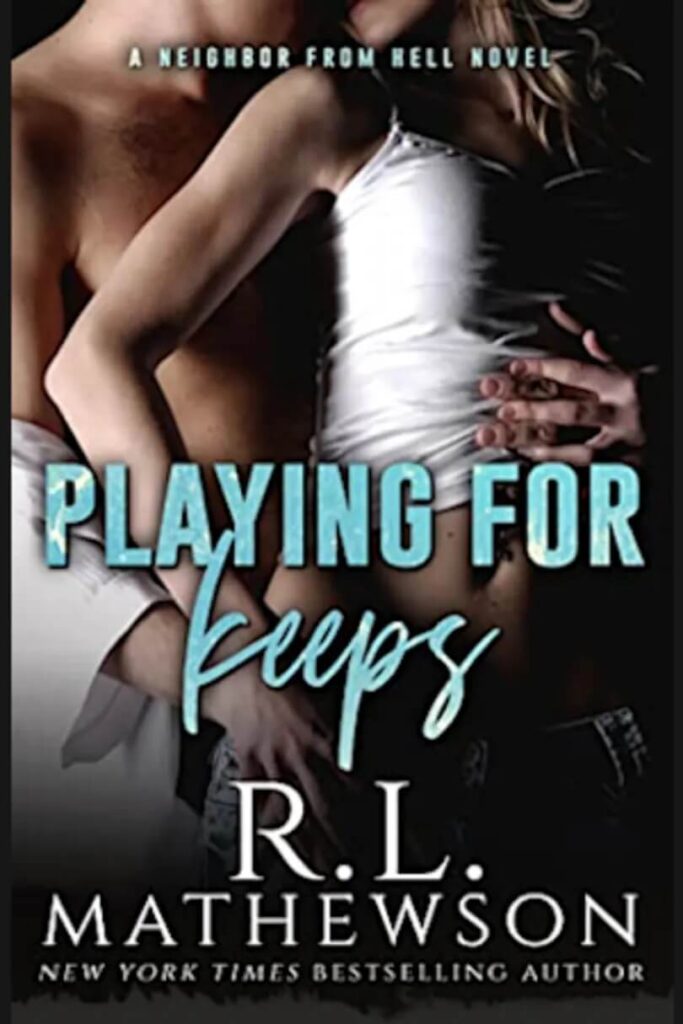 Playing for Keeps, a part of the Neighbor from Hell series, serves up a delightful blend of contemporary romance and romantic comedy.
When Haley, tired of being a pushover, takes on her charming yet aggravating neighbor, Jason, sparks fly.
What begins as a humorous battle over ruined flowers blossoms into an unexpected friendship, unveiling shared interests and a sizzling attraction.
With witty banter, laugh-out-loud moments, and steamy romance, it a must-read for fans of lighthearted, feel-good romance.
The Deal, the first installment of the Off-Campus series by Elle Kennedy, readers are treated to a sizzling combination of contemporary and sports romance. 
Hannah Wells, a confident young woman, strikes an unusual deal with Garrett Graham, the cocky captain of the college hockey team. In exchange for tutoring, Garrett helps Hannah make her crush jealous. However, what begins as a pretend relationship quickly ignites into something passionate and real.

Despite their initial intentions, Garrett proves to be a caring and thoughtful partner for Hannah, making their journey from friendship to love a sweet and compelling story. 
Marriage for One by Ella Maise
Marriage for One is a perfect blend of Marriage of Convenience, slow burn, and grumpy sunshine romance. 
When everything around her is falling apart, Rose finds herself entangled in a surprising marriage proposal from the enigmatic billionaire, Jack Hawthorne.
Initially driven by convenience, their relationship evolves as they navigate the complexities of their unconventional union. Jack's broody and possessive demeanor and Rose's heart of gold lead to a slow-burning, sweet love story filled with swoon-worthy moments, and a delightful daily routine.
Ella Maise crafts a charming tale of a billionaire and a cafe owner whose connection deepens, making this slow-burn romance a must-read with a heartwarming happily ever after.
Dark Romance Books for Beginners
If you're looking for books with angst, violence, perhaps a dark hero or an anti-hero, Dark Romance is a sub-genre you're looking for.
These books will cause a twinge in your heart, make it race, scare the heck out of you, and all the while you'll be biting your nails waiting for the next hit.
Here are some I think are perfect for a Dark Romance Beginner:
The Sweetest Oblivion by Danielle Lori
The Sweetest Oblivion delves into the dark and captivating world of mafia romance, where Elena, the seemingly docile mafia principessa, finds herself entangled with Nicolas Russo, a ruthless Made Man.
Despite her initial disdain for him, sparks fly, and she can't deny the magnetic pull he exudes. As Elena's attraction to Nicolas grows, she discovers a taste for the darkness he represents. However, in the treacherous world of organized crime, love is a dangerous game.
Danielle Lori masterfully weaves a tale of intense sexual tension and chemistry, immersing readers in a world where desire and danger collide, making this dark mafia romance a compelling and riveting read.
Bully by Penelope Douglas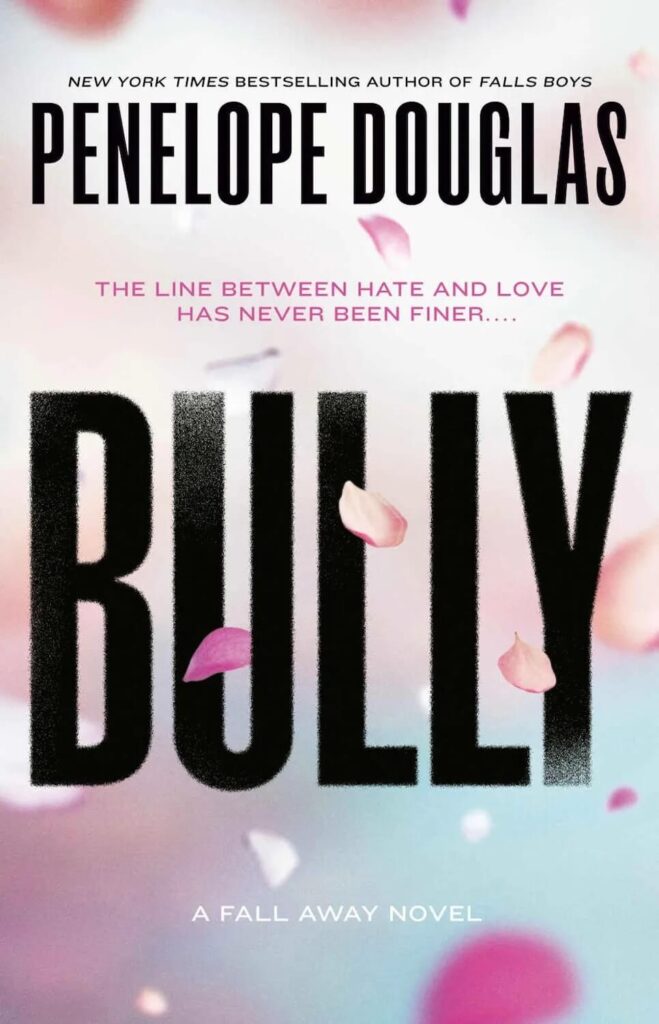 The book that started the very popular Bully Romance trope in Romancelandia. 
Tate and Jared were once best friends until he turned on her due to reasons unknown, making it his mission to torment her throughout high school. Tate endured humiliation and ostracism, even fleeing to France for a year to escape him. But now, in her senior year, Tate has had enough and is determined to fight back against the relentless bully.
With a gripping plot and complex characters like Tate and Jared, this dark new adult bully romance delves into themes of redemption, personal growth, and simmering romance that will keep readers enthralled. Tensions run high in this dramatic story that combines action, car racing, and a sizzling romance.
Devil's Lair by Anna Zaires
Devil's Lair, the first book in the Molotov Obsession Duet by Anna Zaires, plunges readers into a dark and seductive world of suspense and desire.
Chloe, on the run from ruthless assassins, stumbles upon a job offer as a live-in tutor for a four-year-old, leading her to the remote mountain estate of the enigmatic Nikolai Molotov.
Nikolai, with his dangerous allure and secrets, hires Chloe, igniting a magnetic attraction between them. As their connection deepens, Chloe realizes she may have found her haven in the devil's lair, but danger and mysteries lurk in the shadows.
This dark romance delivers sizzling tension and a slow-burning passion that leaves readers eagerly anticipating the next installment in this captivating duet.
Paranormal Romance Books for Beginners
Do you want to read something with supernatural/paranormal creatures in it? 
Have the faeries or vampires always intrigued you? Then Paranormal Romance it is!
Obsidian by Jennifer L. Armentrout
Obsidian, the first book in the Lux series by Jennifer L. Armentrout, immerses readers in a captivating young adult paranormal romance with an alien twist.
Katy's senior year takes an unexpected turn when she encounters her hot but infuriating neighbor, Daemon, who happens to be an alien with incredible powers.
When a dangerous encounter reveals Daemon's true nature, Katy becomes marked by his power, setting off a chain of events that throws her into the perilous world of aliens and their relentless foes.
Katy and Daemon's electrifying relationship, filled with witty banter and undeniable chemistry, takes center stage in this action-packed and unpredictable story.
Obsidian is a fresh and thrilling take on the paranormal romance genre that promises to keep readers engaged until the very end.
Twilight by Stephenie Meyer
Twilight remains a beloved classic in the young adult paranormal romance genre that started the vampire trend along with The Vampire Diaries. 
The opening installment of Stephenie Meyer's renowned Twilight Saga invites readers into a spellbinding world of paranormal romance.
Isabella Swan, or Bella, relocates to the dreary town of Forks to live with her father. Unprepared for the gloomy climate and the attention she receives as the new kid, Bella becomes captivated by the enigmatic Cullen family, particularly Edward, the youngest brother. As Bella's fascination with Edward deepens, she unravels the family's hidden secret—one that sets the stage for a riveting love story with bite.
Relentless by Karen Lynch
Relentless is the first book in the YA Paranormal series Relentless by Karen Lynch. 
It delves into the life of Sara Grey, a young woman haunted by her father's brutal murder. Unbeknownst to her friends and family, Sara is immersed in a hidden world of warriors, demons, faeries, vampires, and shifters. Driven by a relentless quest to uncover the truth behind her father's death, Sara's search for answers exposes her to danger, including the sinister threat of a sadistic vampire.
Amidst the chaos, she encounters Nikolas, a warrior who disrupts her world and becomes her unlikely protector.
As Sara grapples with her own powerful gift and confronts her true ancestry, she must learn to trust those around her and open herself to a love that could shatter her defenses. The plot weaves an intricate tapestry of supernatural creatures and compelling characters, making it a must-read for fans of the genre.
Fantasy Romance Books for Beginners
Take a tour of a world beyond the Earthly realm. 
Fantasy Romance takes you on a journey in a magical world, where you might encounter different beings in their own world – Like Faeries or Gods.
Perfect for readers who want to escape the dreadful reality. 
A Court of Thorns and Roses by Sarah J Maas
ACOTAR by Sarah J. Maas offers a spellbinding journey into a world of enchantment and danger.
When nineteen-year-old huntress Feyre kills a mysterious wolf in the woods, her life takes a treacherous turn as she's thrust into the heart of the mystical and perilous Fae lands.
There, she encounters the captivating yet enigmatic faerie, Tamlin, and her feelings shift from icy hostility to fiery passion. However, lurking beneath the beauty of the Fae world is a malevolent shadow threatening to engulf everything.
In this high fantasy romance, Maas weaves a compelling tale of love, adventure, and faerie lore that will leave readers captivated and yearning for more.
From Blood and Ash by Jennifer L Armentrout
From Blood and Ash is a good starter book for anyone who wants to read a high-fantasy romance book. 
Jennifer has built a fantastic world of two kingdoms – one thriving and one fallen – waiting to be resurrected. It's a world rife with mystery, treachery, and deceit, and our heroine Poppy is centered around it all. 
As her ascension looms near, and she meets Hawke, her newly assigned guard, she unravels more of the secrets, questions the things happening around her, and finds herself stuck between her attraction for Hawke and her fate.
Check out my detailed review of From Blood and Ash. 
Historical Romance Books for Beginners
If you want to experience the grandiose of the aristocracy in the Regency Era, Historical romance is what you're looking for. 
From rakish earls to grumpy dukes, this sub-genre will take you on a ride of the glamorous glitz of ballgowns and seasons and clandestine meetings.
Devil in Winter by Lisa Kleypas
Devil in Winter by Lisa Kleypas is a delightful historical romance set in the Wallflower series.
The story revolves around the unlikely pairing of Evangeline Jenner, a shy and stammering wallflower, and Sebastian, a notorious rake and viscount.
In a desperate bid to escape her scheming relatives, Evie seeks a marriage of convenience with the handsome and infamous Sebastian. As their relationship develops, Evie's hidden strength and Sebastian's unexpected virtues come to light.
This tale of a bad boy and a good girl, filled with character development, unique storytelling, and a touch of redemption, proves to be a captivating and heartwarming read that will have readers cheering for love's triumph.
Check out my detailed review of Devil in Winter.
The Wedding Bargain by Victoria Alexander
The Wedding Bargain by Victoria Alexander invites readers into the enchanting world of Pandora Effington, the ton's most stubborn and captivating beauty, and Maximillian Wells, the Earl of Trent. 
When Max, a notorious rake and rogue, sets his sights on Pandora, she offers him a challenge to win her in marriage. 
What unfolds is an adventurous and humor-filled courtship, with Pandora resisting Max's charms even as her heart betrays her. With well-developed characters and witty banter, this historical romance captivates readers with its delightful tale of love and intrigue
These are some romance novels to start off with as a beginner!
As you read and explore more of this genre, you'll find various romance tropes you'll love and hate. With Kindle Unlimited, Goodreads, and Bookstagram, you can find many book recommendations that suit your mood. 
Hope you got a few books in your shopping cart! If you read some of these, ping me and let me know what you thought of them!
PS – Some of them are on Kindle Unlimited. Don't know what that is? Check out my guide to Kindle Unlimited. 
Happy Reading!